one client/employer in particular is the source of Lopez's recent troubles.
Delegate Alfonso Lopez really just can't catch a break.
No, seriously. Even those of us here at The Republican Standard are feeling sympathetic toward Lopez, one of the most liberal members of the House, for the constant stream of criticism he's been taking from the "true progressives."
You might be confused there. How is Lopez not a "true progressive?" That, friends, is where the saga begins.
You see, Delegate Lopez — like all members of the nearly 400-year-old House of Delegates – is a citizen legislator. His part-time salary as a House member, a mere $17,000 and some change, isn't nearly enough to feed his family and charge the Prius (not to mention pay Terry McAuliffe's $46 tolls).
So, Delegate Lopez has a real job. Or several jobs.
He occupies that swampy-space of consultant land that Washington D.C.-types have perfected over the years, reporting income from various firms and clients since he joined the House of Delegates.
But one client/employer in particular is the source of Lopez's recent troubles.
You see, Lopez was paid more than $5,000 by the Immigration Centers of America from 2013 to 2015 and reported such on his economic disclosure statements.
That's the rub. The Immigration Centers of America isn't a pro-immigrant think tank, or an immigrant advocacy group, or a network of support services for Latino immigrants.
Immigration Centers of America is a private prison, operated for the United States Immigration and Customs Enforcement Agency. ICA runs a detention center in Farmville, Virginia where people who are in the U.S. illegally are held until they can be deported or their immigration status can be resolved.
What, exactly, Lopez did for ICA isn't clear. What is clear, however, is that he's in a heap of trouble for it.
It started last fall when Lopez began being hounded by a group of young immigrants known as La Colectiva.
Young Latino activists in Northern Virginia are trying to punish a Democratic state legislator for his work for an immigration detention center, demanding that he apologize, be stripped of his leadership position in the General Assembly and use the money he earned to help undocumented detainees.
Del. Alfonso H. Lopez, a Democrat who has represented a Hispanic­-heavy South Arlington district since 2012, was paid more than $5,000 a year in 2014 and more than $10,000 a year in 2015 and 2016 by Immigration Centers of America (ICA), which operates a detention center in Farmville, Va. , according to his state financial disclosure reports.
La Colectiva, a group of college- and post-college-aged activists, says the income means he has "betrayed and backstabbed" the immigrant community. The group, along with other campus-based immigrant organizations, is asking the Virginia House Democratic Caucus to unseat Lopez as minority whip when the legislature reconvenes in January.
The video is… not good (for Lopez). 
Now, we here at TRS have no qualms about Lopez's gainful employment at a private prison housing illegal immigrants. After all, we are proud promoters of free enterprise.
We feel Lopez should be able to work at any private prison of his choosing, even one housing latino immigrants — and even if not being able to speak Spanish (he can't) might make that work difficult.
If he wants to profit off immigration detention, then by golly he's got every right under capitalism to do just that… even if the resulting imagery isn't great for his political career.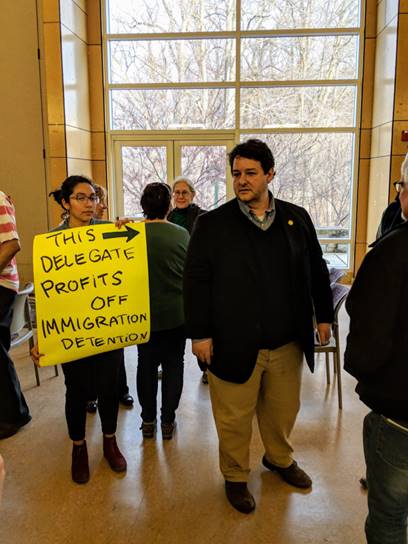 But the true progressives at LaColectiVa have been harassing Lopez for months now, determined to make Lopez repay thousands of dollars in rightfully-earned wages and give up his "leadership" position in the House of Delegates.
This weekend, the frustration boiled over at a town hall in Arlington where Lopez was set to speak.
A town hall with local Virginia lawmakers dissolved into chaos Saturday and police were called after Latino activists confronted Del. Alfonso Lopez (D-Arlington) about his previous consulting work for a private company that operates detention facilities for U.S. Immigration and Customs Enforcement.
The activists, who have dogged Lopez for the last six months, demanded Lopez apologize, promise to not do the work again and return the money he earned. As the meeting got more boisterous, security officers for Arlington's Central Library appeared then called local police. When the verbal tumult continued, the sponsor of the event, Indivisible Arlington, cut the session short about 3 p.m.
By now, you have to be feeling bad for the guy. He can't even have a town hall meeting in the progressive bastion of Arlington, promoting his efforts to raise taxes, increase electricity prices, and turn Virginia in to California, without coming under a relentless barrage of criticism. That's just not even fair.
The troubles for our friend Alfonso don't stop there though.
Apparently, Lopez and the town hall organizers committed the progressive equivalent of original sin — they called the police in to a room full of illegal immigrants.
We're not joking. Indivisible Arlington even apologized for calling the cops. 
"We regret the presence of library security and law enforcement at the meeting. We recognize the negative impact of their presence on meeting participants, especially people of color."
Why a room full of illegal immigrants would be concerned about the cops is beyond me. But surely we can forgive Lopez for putting all of them in jeopardy of arrest and deportation?
After all, he's gone through so much.