In Arizona, Republican Congresswoman Martha McSally announced her campaign for U.S. Senate to replace retiring Republican Senator Jeff Flake on Friday, according to a report from AP. As she launched her bid, the 2nd District Arizona lawmaker called for the national Republican Party to, "grow a pair of ovaries," among what will be one of the most watched Senate races in the country. Congresswoman Martha McSally is running counter to current Republican Senator Jeff Flake by embracing the agenda set forth by President Donald Trump and his administration.
The Air Force colonel and first female fighter pilot in that branch of the military is currently serving her second term in the House Representatives. In 2014, she became the first ever woman congressional representative from the western state, beating her opponent by a margin of just 167 votes after a recount was ordered. Arizona's 2nd District is marked by a large population of Hispanics and its location on the southern border of the state with Mexico.
On Thursday, Congresswoman Martha McSally took to Twitter to speak about her meeting with President Trump and her thoughts on border security and the future of the Deferred Action for Childhood Arrivals Act (DACA).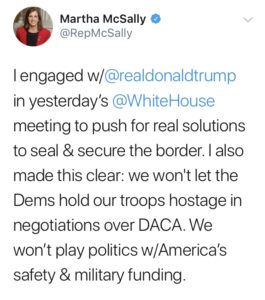 "I engaged w/@realdonaldtrump in yesterday's @WhiteHouse meeting to push for real solutions to seal & secure the border. I also made this clear: we won't let the Dems hold our troops hostage in negotiations over DACA. We won't play politics w/America's safety & military funding."
Considering Arizona sits on America's southern border with Mexico, the election will undoubtedly be highlighted by candidate views on immigration from both sides of the political spectrum in a state that features one of the country's highest concentration of Hispanic populations.
Congresswoman Martha McSally is already backed by many Republicans leaders in Arizona and Washington and has described herself as anything but an establishment candidate. In a highly-spirited announcement video, in which she described her plan for fighting for national security, economic security, and border security, President Trump commented on her charisma saying, "My friend, Martha McSally, she's the real deal – she's tough."
In an excerpt from her video, she fervently explained, "Like our president, I'm tired of PC politicians and their BS excuses. I'm a fighter pilot and I talk like one."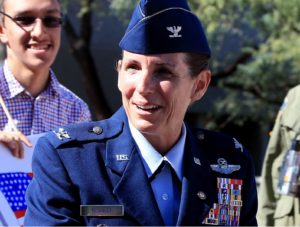 The 2018 Arizona Senate election will most likely mirror the 2016 presidential election and Donald Trump's political playbook, emphasizing the threat Americans face from illegal immigration. In his election, President Trump won the state by less than four points. According to the Pew Research Center, 2,056,000 Hispanics live in Arizona, making up 31 percent of the population, 90 percent of which are of Mexican origin.
51-year-old Martha McSally enters the Republican primary race that also features the infamous immigration hardliner former Arizona Sheriff Joe Arpaio. Arpaio, 85, was pardoned by President Trump in 2017 after intentionally defying a judicial order to stop traffic patrols that targeted immigrants to check their immigration status. A third candidate in the Republican primary is former State Senator Kelli Ward, an avid Trump supporter who has advocated for one of the president's campaign promises – a border wall with Mexico.
As Congresswoman Martha McSally has aligned herself with President Trump over the past year, she co-sponsored an immigration bill that was released by House Republicans earlier this week that is set to reduce legal immigration levels by up to 25 percent. Moreover, the bill will block American cities from receiving federal grants that house illegal immigrants in defiance of federal law, end the immigration"lottery system", and end chain migration by restricting the number of family members that immigrants already in the U.S. can bring into the country. The House bill does provide temporary legal status for children and young adults currently protected by the DACA program.
Arizona Democrats believe they can flip the Senate seat in their favor in 2018 as the liberal party struggles to maintain control of conservative-leaning states across the country. In a weak Democrat field, three-term Congresswoman Kyrsten Sinema may be the only candidate who has a chance against Martha McSally; however, many in her own party have yet to endorse her. In her announcement video, the incumbent Republican Congresswoman charged, "After taking on terrorists in combat, the liberals in the Senate won't scare me one bit."