For Virginia Republicans, the time to act is now.
GOP volunteers from all over the commonwealth took to the streets today as part of the National Day of Action, the Republican National Committee's first big ground game event of the year.
Working in conjunction with the Republican Party of Virginia, GOP events in Virginia Beach, Richmond, Northern Virginia, and Lynchburg brought out hundreds of volunteers for training and doors knocking.
"This is our first major push of the 2018 cycle, and we couldn't be more happy with how it turned out," said Garren Shipley, the RNC's Communications Director in Virginia. "Events like this are how we build out our infrastructure for November. We start by training a core of activists, who then train others to train volunteers."
Saturday's message was simple: if you like the tax cut you got in December, vote Republican in November. Virginia Democrats have made it absolutely clear that repealing the Tax Cuts and Jobs Act would be one of their first orders of business should they take the House in 2018.
"My family runs a small business, and they've definitely seen the benefits of the tax cuts," said Max Coskie, a volunteer knocking doors in Henrico County Saturday morning. Small business owners need the strong economy to keep rolling, and that will only happen with Republicans in charge, he added.
For all the talk of a building blue wave, Republicans have a major breakwater in place — a giant pile of cash, and a major investment in their data and field operations.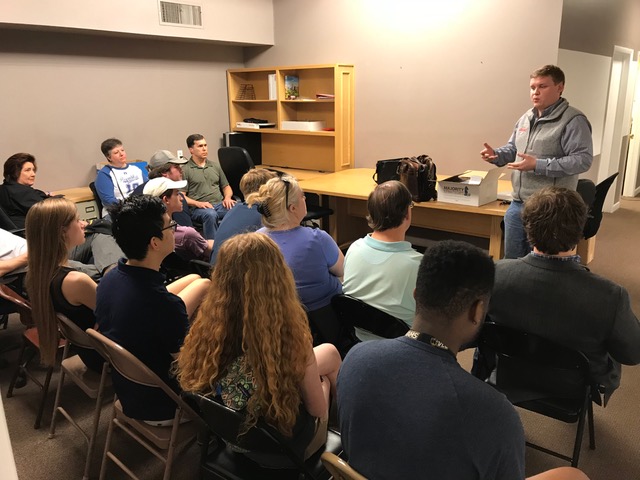 Republicans currently hold a major fundraising advantage over Democrats, giving them an edge on the ground. Party officials say they plan to spend upwards of $250 million on ground operations during the 2018 midterm cycle alone.
"We have people on the ground in more than two dozen states — 300 so far, more than we've ever had at this point in any cycle," Shipley said. In Virginia, a total of six paid ground staffers are busy training the party's volunteer army as quickly as they can.
"This year alone in Virginia we've put more than 300 people through our intensive Republican Leadership Institute program," he said. Those graduates form the core of neighborhood-based teams that add layers and grow as the cycle progresses. When crunch time arrives this fall, RPV and RNC will have thousands of trained volunteers ready to knock on doors in their own neighborhoods.
"When then-Chairman Priebus said RNC was creating a permanent ground game, he wasn't kidding," Shipley said. Since 2012, the party has invested more than $200 million in data. For Virginia, that means campaigns armed with the most up to date information possible.
"Chairwoman [Ronna] McDaniel has kept the ball rolling, and we've got the resources we need to win," he added.
Republican staffers have been on the ground in key Congressional Districts — including the 10th, 7th, 5th, and 2nd — for months already, quietly building their volunteer base.
"Democrats had a good year last year, but we're not going anywhere," said RNC's Shipley. "Nobody is going to out work us. The stakes are too high."