On Wednesday, Virginia House of Delegates Speaker Kirk Cox (R-Colonial Heights) was invited to the White House to join President Donald Trump and Vice President Mike Pence for the signing of the VA Mission Act. The bipartisan legislation was passed in effort to overhaul the Department of Veterans Affairs and the healthcare delivery services for the nation's military members.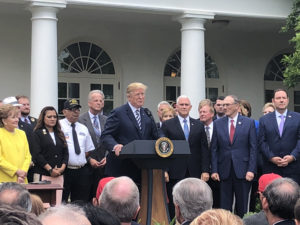 "I was honored to attend this bipartisan bill signing ceremony with President Trump, Vice President Pence, and congressional leaders," said Speaker Cox via a press release.
The bill will streamline the Veterans Choice Program and VA community care programs to ensure that veterans are able to gain access to proper healthcare when and where they need it, as well when the VA is unable to provide it. The reforms will be bolstered by $5.2 billion in federal funding to prevent interruption of access to needed care for the nation's military veterans.
"The bill makes much-needed investments in the healthcare of our nation's heroes and includes important reforms to make sure they get the healthcare they need when they need it," said Cox. "It will have a dramatic impact on the lives of the nearly one million veterans and their families who call the Commonwealth of Virginia home."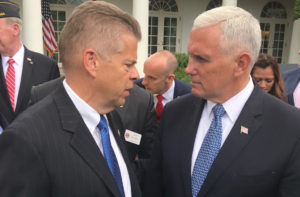 Virginia has the highest concentration of veterans in the country, considering the southeastern portion of the state is home to the world's largest naval base – Naval Station Norfolk. Speaker Cox has long been a strong supporter of the military and veterans, introducing over 120 individual pieces of legislation for the military, veterans, and their families since joining the House of Delegates in 1990.
Cox added, "Virginia is one of the most veteran-friendly states in the nation and we've worked hard to provide our veterans with access to education, job training and placement services, and healthcare when they've returned home.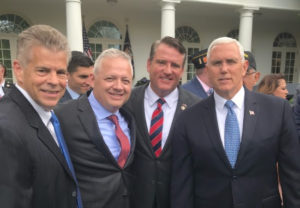 Over 20 percent of the total legislation that he has introduced during his career in the state legislature has been in effort to help those who have put on, or continue to wear the uniforms of the U.S. military.
"Virginia took a bold step to construct and run two new Veterans' Care Centers as part of our commitment to the brave men and women who served our country. We will continue our efforts in the years ahead," Cox said.