A social media user critical of her brother-in-law's congressional run received a sharp rebuke from Rachel Vindman.
Alexander Vindman, a key figure in Donald Trump's first impeachment, is married to Rachel. Vindman, a retired Army Lieutenant Colonel, served on the National Security Council in the Trump White House. He drew national attention when he testified about the Trump-Ukraine affair before Congress. Vindman's testimony led to a charge of abuse of power in that impeachment.
His brother, Eugene, who reported Trump's call with Ukrainian President Volodymyr Zelensky, is running for Congress in Virginia's 7th District. The Central and Northern Virginia district is being vacated by Democrat Abigail Spanberger.
Now that we're all on the same page, Rachel ran into some trouble when she exploded at a critic of Eugene's political aspirations. The only problem? The critic in question is Joshua Cole, a prominent Virginia Democrat recently reelected to the House of Delegates.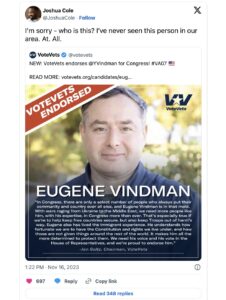 Rachel made her displeasure with Cole abundantly clear. She soon deleted her response but the internet has a nasty habit of keeping embarrassing comments alive in near-perpetuity (warning: explicit language).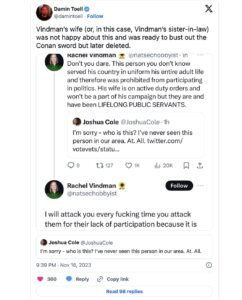 At that point, Alexander stepped in to smooth things over as best he could, as American Wire noted:
"I'm sure you think you are being a good surrogate for your VA house colleagues looking to run for VA-7, but don't start by questioning [Eugene Vindman]," he told Cole. "Its a bad look. The Vindman's have been fighting for our democracy & for Virginia. I respect your service. But don't disrespect ours." "Joshua, we are in this fight together," he added. "[Eugene] has met many, but clearly not all, of the local local leaders. He looks forward to meeting and working with you."

Other social media commenters were upset by the Vindmans' perceived entitlement when overzealously defending Eugene.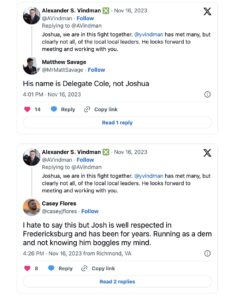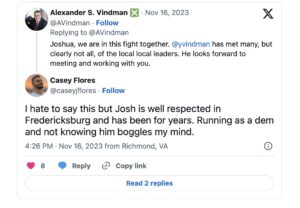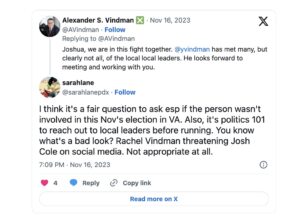 READ NEXT: Ex-Army Officer At NSC Fired By Trump Running For Congress