With the national economy getting worse and economists predicting with "100% certainty" that the recession will only worsen in early 2023, Virginia Republicans are finding themselves with the wind at their back as voters grow increasingly uneasy with Democratic leadership in Washington.
Recent polling from the left-leaning New York Times indicates that likely voters are breaking Republicans at a +4 margin, echoing the 2010 and 2014 midterm elections that saw sweeping Republican changes on Capitol Hill.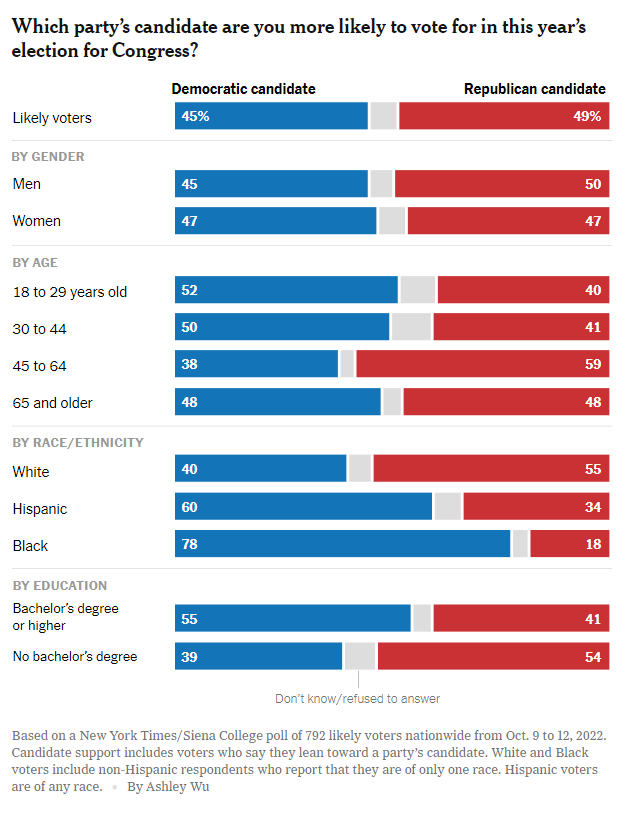 At present, Virginia Republicans are surging in places such as VA-02 and VA-07, where Jen Kiggans and Yesli Vega respectively are beginning to make the case against their erstwhile Democratic opposition.  In VA-10, Hung Cao continues to turn heads with a stunningly direct and effective campaign message in a district that has remained left-of-center since 2016.
More concerning for Democrats is the percentage of the black vote — 18% — indicating that they will indeed vote Republican.
In Virginia, these numbers have historically been in the single digits, and with black voters walking away from woke Democrats the writing on the wall is indicating a historic surge with the potential to be a permanent rejection of the paternalistic progressive politics that has ensnared Virginia's General Assembly — particularly Senate Democrats.
With the election a mere three weeks away, should undecideds continue to break 2:1 in favor of Republicans and along the fault lines indicated by the NYT, Virginia Democrats could be in for a brutal repudiation in 2023.