Veterans, reservists, active duty military members, and their families from across Virginia's 10th Congressional District turned out in droves last week to support a fellow veteran – and their Republican nominee – Hung Cao at an event in Leesburg, Virginia.
Cao was the keynote speaker at a Virginia Veterans' Forum event put together by the Republican National Committee (RNC).
Other speakers at the event included the following:
Republican Party of Virginia Chairman Rich Anderson, a Retired Airforce Colonel
Lt. General (Retired) Bob Wood of American Veterans Vote
John Vick, Director of Military, Veterans, and Law Enforcement Engagement for the RNC
Each speaker had a turn to address the crowd assembled at the event. Anderson said in his remarks that he can't underestimate the value of politically active military veterans – a point that was also highlighted by other speakers.
During his remarks, Cao thanked the individuals that came out to support him not only that evening, but also for all of the support that he has received over the past several months spent on the campaign trail.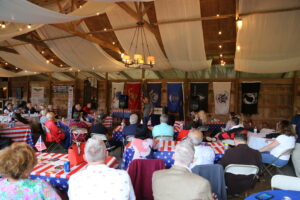 After he addressed the crowd, I had a chance to ask the VA-10 nominee why he believes some national prognosticators such as the Cook Political Report are not even putting this district in their "swing seat column".
Cao told me that Democrats "don't want to admit to their base that they're losing this district. Until very recently, Channel Five and Channel Seven have been the only ones that say "well it's a tight race." Everyone else has been saying that it's a D+6."
The latest major move by Cao's opponent – incumbent Jennifer Wexton – may show a more complete picture of how the race is truly shaking out in the final weeks:
Cao told me "she took all of her money, all of her cash on hand. She took $3.5 million and put it into ads, it means that they are hurting. It means that they took a poll and it's not looking good for them. We will run our poll next week and we'll know exactly the number by which we are winning. But two months ago we were up by two."
As previously reported by The Republican Standard, Cao's team also highlighted their spectacular Q3 fundraising haul earlier this month.
Cao told The Republican Standard Thursday that as great as the top-line fundraising numbers are, they don't even tell the whole story: "The thing I am most proud of, we have over 22,000 donors. That's the grassroots thing. It means that people believe in us … Our average individual donor is thirty-something dollars."
After the conclusion of the event last Thursday night, RPV Chairman Anderson said he thought that "the event went very well, great turnout. We're within 33 days of the election. People are fired up. You saw them tonight. Hung Cao is right for this district. This district is rich with military veterans, and he brings a distinguished record of military service that I think they will find attractive. He knows how to lead and serve."
When also asked about why this race wasn't even topic of conversation in many circles, Anderson said "I think that the liberal press simply does not want to speak about the race here and in several other districts that are truly competitive because they do not want to bring attention to the fact that they are competitive."