VA-02 Republican nominee Jen Kiggans recently spoke to supporters about why she is the right choice to flip the district back to Republican control next week, and how she will represent her constituents in Washington.
Before Kiggans took the mic, she was introduced by two of Virginia's First Ladies – one current and one former. Suzanne – wife of Governor Glenn Youngkin and Susan – wife of former Virginia Governor and United States Senator George Allen – both touted Kiggans as the right candidate to represent the Hampton Roads region at the right time.
Youngkin said that "Americans are extremely hungry for female voices who are going to be not only stong, but at the same time very compassionate and very in tune with the needs of their constituents."
Kiggans is currently a member of the Virginia State Senate who said she felt inspired first to get involved in politics when she saw many women running for office in the 2018 cycle with life experiences similar to her own – but that none of them were conservatives.
Kiggans shared that back then, she was "watching all of these Democratic women running for Congress, and looking at their resumes pretty closely, thinking they have done the same things" that she had done. Then she said, came the thought of "why can't I do this too?"
Her background includes serving as a helicopter pilot in the Navy, being a stay-at-home mother, and raising her children while her husband frequently traveled during his own time in the military. Then, she returned to nursing school to become a nurse practitioner taking care of vulnerable populations and working with their caregivers and families.
One set of issues that Kiggans understands personally understands are those facing military families. She has been a uniformed military member, a military spouse, and is now a mother of children currently attending the service academies.
As many Republicans are doing this cycle, Kiggans touched on the "Democrat's disastrous economic policies that have really hurt women"… "who are currently struggling to get back into the workplace" after making sacrifices for their families over the course of the COVID-19 pandemic.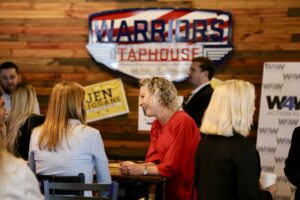 Kiggans also shared with the crowd her personal experience of visiting America's Southern Border on a trip coordinated by Winning for Women earlier this year. The visit took eight female Republican candidates from across the country to the border hot zones of Hidalgo and McAllen, Texas. There, she saw firsthand how "border patrol are not supported"  and learned that "nine out of ten women and girls who come across the border are raped, molested, or human trafficked."
We must secure our southern border and reform our immigration process! Every state is a border state right now thanks to Joe Biden & Elaine Luria's reckless policies!#OpenBorder #HumanitarianCrisis #WeAreBetterThanThis #RepublicanWomenLeading

— Jen Kiggans (@JenKiggans) August 30, 2022
This Virginia Beach campaign event was also coordinated with the help of the Winning for Women Action Fund – a group dedicated to helping female candidates win swing electoral seats.
The group has also recently held similar events – all a part of the "Women On A Mission Tour" in the states of Iowa and Indiana. The Iowa stop featured speakers Governor Kim Reynolds, Congresswomen Mariannette Miller-Meeks (IA-01) and Ashley Hinson (IA-02), and Ambassador Nikki Haley. The tour stop in Indiana's First Congressional District boosted candidate Jennifer-Ruth Green with an appearance by U.S. Senator Todd Young (R-IN).
In a media release sent prior to the event, the WFW Action Fund shared that they are the "political arm of Winning For Women… the first SuperPAC dedicated solely to electing Republican women. WFW AF launched successful campaigns in support of Nancy Mace (SC-01), where it was the biggest outside spender, as well as Jen Kiggans (VA-02), where it helped advance her through the primary despite efforts by the Left."
Per FEC records, the WFW Action Fund has raised over 9 million dollars and spent over 7 million of that money on independent expenditures on behalf of female candidates nationwide.
The group made two advertising buys to support Kiggans in the primary, one for $12,000.00 and another for $207,174.78. Both ad buys were made in June of 2022.
The original Winning For Women Inc PAC has raised just under half a million dollars in the 2021-2022 electoral cycle, and made disbursements to individual candidate committees.