You really can't make this stuff up anymore.  From Kevin Robillard over at Politico:
"Highly scripted, highly robotic accounts are being used to boost this message into the Twitter conversation," said Tim Chambers, the report's author and the U.S. practice lead for digital at the Dewey Square Group. The firm was retained by the National Education Association, whose Virginia affiliate has endorsed Northam.
Of the 15 accounts most frequently sending out messages about the ad from Latino Victory Fund, just two accounts belonging to GOP operatives were human, while 13 belonged to either fully or partially automated bots, according to the report from Discourse Intelligence. The National Education Association, whose Virginia affiliate backs Northam, paid for the report.
The NEA. Always a trusted source for fair and balanced news.
Of course, one can see the narrative being built here.  After at least four polls have shown Gillespie with either a lead or in a dead heat for the gubernatorial election?
Someone has to have an excuse.
UPDATE: A reader helpfully provides an audit of Robillard's own personal Twitter account: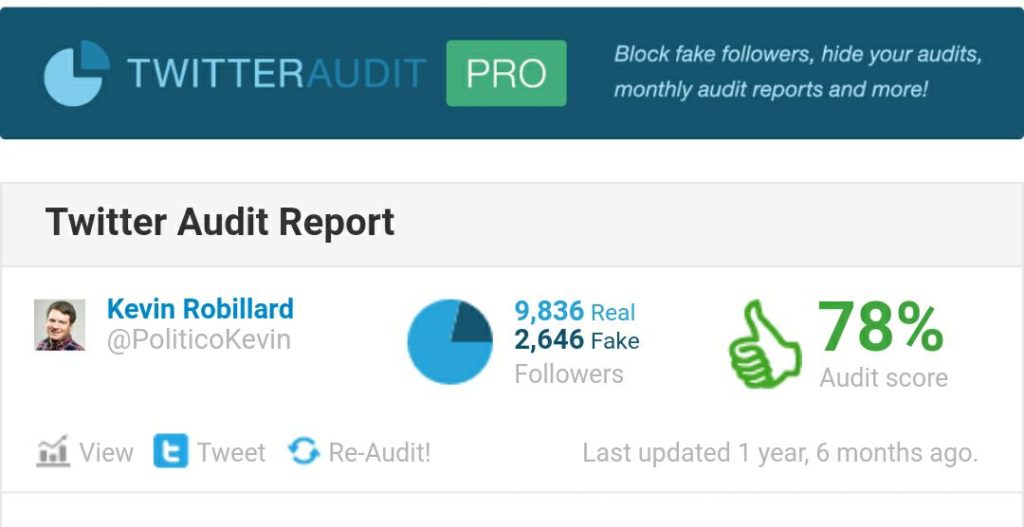 Physician, heal thyself?