Republican congressional candidate Yesli Vega (VA-07) is already under heavy fire from Democrats fearful that a Hispanic voice on Capitol Hill would be a direct threat to their messaging on issues ranging from immigration to abortion.
Democrat Abigail Spanberger — who recently moved into the district in order to hold the congressional seat for the Democrats — has immediately joined in blasting Vega for holding sensible conservative positions on the Second Amendment, reasonable restrictions on immigration enforcement, and questioning the use of abortion as a means of birth control.
"The extreme nature of where so many states are lurching is becoming clear, Spanberger said. "In our race, the candidate running against me called doubts on what happened on January 6. She's defended the insurrectionists, she's lamented that they lost their jobs and been forced to retire and been persecuted. These are people that beat police officers with American flags and American flag poles and fire extinguishers."
Spanberger continued: "And yet in Virginia, in a district that has long been Republican-held that I did flip in 2018, that is a toss-up district, this is the sort of engagement that we are seeing on the other side of the aisle. And so those are the extreme issues but what about the meat and potatoes of governing? The I-95 corridor runs through our district, the infrastructure bill is vitally important to our district and I've got an opponent who most assuredly would have voted against that – not to mention federal bans on abortion, not to mention these very very extreme positions that just aren't tracking with what the country needs let alone what voters want."
Spanberger's accusations come within days of an orchestrated campaign against Hispanic conservative women in the media, with allegations accusing Vega and others of "white supremacy" — and worse.

Spanberger's campaign has yet to condemn these attacks, and in fact seems to be dovetailing her own political messaging into this racial narrative.
Texas Republican Maya Flores is also coming under fire from the professional left as representing the interests of the "far right" — signaling that both Flores and Vega are more white nationalist than they are Hispanic women who also happen to disagree with the dogmas of the political left.

Such attacks resemble similar attacks on Lieutenant Governor Winsome Sears, who was attacked by Democrats not only for being the first black female to carry the oldest representative office in North America, but was slammed for having the audacity of exercising her Second Amendment rights in a flyer.
Likewise, Virginia Attorney General Jason Miyares (R) was the subject of similar attacks based on his Hispanic heritage, leveraged repeatedly against Miyares during his political career.
In February 2022, Virginia Democrats accused Delegate A.C. Cordoza of being an "Uncle Tom" in a series of social media posts that were absorbed quietly by Democratic members of the House of Delegates.
Cordoza has asked to become a member of the Virginia Black Caucus and has had his request repeatedly denied.  His sin?  Being a Republican.
This from a political party whose leadership just months ago was one of these two people: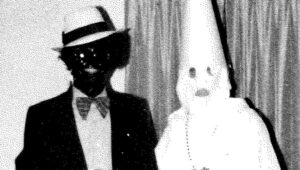 Looks as if the Dixiecrats are alive and well, and do not tolerate those who stray too far from the plantation.
Meanwhile, Virginia Democrats alongside the DCCC and their allies seem to be doubling down on the "spray tan" supremacist narrative.
If the Democrats insist that Republicans intend to take America back to the 1950s, this unchallenged and racially charged rhetoric indicates that Democrats would be more than happy to take America back to the '50s as well — the 1850s, that is.
Whether Spanberger sees the narrative as too obtuse (or outright racist) for more nuanced, college educated, and racially diverse VA-07 remains to be seen.