As reactions to the historic decision handed down by the Supreme court to overturn Roe v. Wade continue to happen all over the country, here in Virginia, Governor Youngkin has made it clear that Virginia is no place for threats and violence.
As reported by WTOP, police in Lynchburg Virginia are investigating an act of vandalism that took place at the Blue Ridge Pregnancy Center that was vandalized by four masked individuals at around 10:40 a.m. on June 25. Police photos show the entrance and out walls of the center marked with graffiti — "Jone's Revenge," "If Abortion ain't safe you ain't safe!" anarchy symbols and drawings of coat hangers — and at least three windows with broken glass.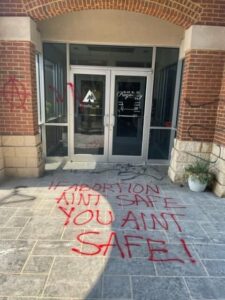 The Blue Ridge Pregnancy Center is listed among several available crisis pregnancy centers — organizations that provide services like ultrasounds or "abortion consultations." These centers often try to convince pregnant women not to get an abortion and have religious affiliations.
Governor Glenn Youngkin says Virginia State Police are "ready to support local law enforcement" while a vandalism investigation continues at a Lynchburg crisis pregnancy center.
"There is now room for this in Virginia," the governor said Saturday evening, "breaking the law is unacceptable. This is not how we find common ground.
Youngkin also offered a similar statement immediately following the Supreme Court's decision, calling for Virginians to "respect the rule of law" and to stated he would be ready to act as "Virginia will not stand for lawlessness or violence."
"While I understand that people across the nation have strong beliefs about this ruling, Virginians must always respect the rule of law and I appeal to their civility on this historic day. Our administration is committed to protecting individuals' constitutional rights and ensuring Virginians are safe. I am in regular contact with the Supreme Court Justices and my administration is in coordination with our mayors, and local and state police to ensure we are ready to take appropriate action if need be. Virginia will not stand for lawlessness or violence."