The number of veterans serving in the United States Congress has steadily been declining for several decades since the Greatest Generation entered retirement age. There have been a number of groups across the political spectrum that have worked to remedy this issue in the past several electoral cycles. One such group is With Honor, which notes on its website that "debilitating partisanship in Washington is near a record high, while veteran representation in Congress is near a historic low." Per the Brookings Institution, only 18% of members of Congress were veterans in 2019.
In times of turmoil and uncertainty, Americans naturally tend to seek guidance from military leaders – as those with military experience are trained to handle difficult situations.
During the 2022 electoral cycle, a total of 196 veterans ran for office as major party nominees per the Military Times.
"More than one-third of all congressional races on the ballot this November will feature a veteran, and several could help decide which party wins control of the House and Senate next year. The 196 veterans who have won major-party primaries represent the largest group of candidates with military experience in a decade. It includes 130 non-incumbents trying to increase the total number of veterans in Congress next year."
As of Wednesday, the Military Times noted that veterans were "ahead in several of the uncalled races, leading to the possibility that there will be more veteran lawmakers than any other Congress in recent history, though the number will still be dwarfed by the height of veterans in Congress after World War II."
Here are a number of Republican veterans who have already been declared winners of their races, and flipped formerly Democrat-held seats back into Republican hands. Presently, the projection based on uncalled races is that Republicans will secure a razor-thin majority for the 120th Congress – set to span 2023 and 2024. Due to the nature of coming from flipped seats, these veterans have an elevated platform accompanied by elevated expectations to represent their constituencies well in Washington. Groups that have invested in electing vets may very well be a key reason Republicans regain control of the House this year.
Without further ado, here are new Republican vets who will be serving in Congress next year.
Jen Kiggans – Virginia's 2nd Congressional District 
Service Branch: U.S. Navy
It was Naval Aviation Appreciation Day for Team Kiggans at the NAS Oceana Air Show today! Loved seeing the U.S. Navy Blue Angels (but think they need to add a helicopter to the mix….!)! I can't wait to be a voice for Naval Aviation in Congress! #FlyNavy #NASOceana #NavyFamily pic.twitter.com/9T2qn4drlR

— Jen Kiggans (@JenKiggans) September 19, 2022
Virginia State Senator Jen Kiggans will be representing Southeast Virginia's Hampton Roads region in Washington next year. At a campaign event earlier this month, Kiggans shared that she felt inspired first to get involved in politics when she saw many women running for office in the 2018 cycle with life experiences similar to her own – but that none of them were conservatives.
Her background includes serving as a helicopter pilot in the Navy, being a stay-at-home mother, and raising her children while her husband frequently traveled during his own time in the military. Then, she returned to nursing school to become a nurse practitioner taking care of vulnerable populations and working with their caregivers and families.
The set of issues facing military families are ones that Kiggans understands personally. She has been a uniformed military member, a military spouse, and is now a mother of children currently attending the service academies.
As the mother of a Naval Academy Midshipman, I am so proud of ALL the young men and women who volunteer to serve in our country's military. But just for today… GO NAVY. BEAT ARMY!! #ArmyNavy #GoNavyBeatArmy #VA02 pic.twitter.com/mikbZcH1Iw

— Jen Kiggans (@JenKiggans) December 11, 2021
Anna Paulina Luna – Florida's 13th Congressional District 
Service Branch: U.S. Air Force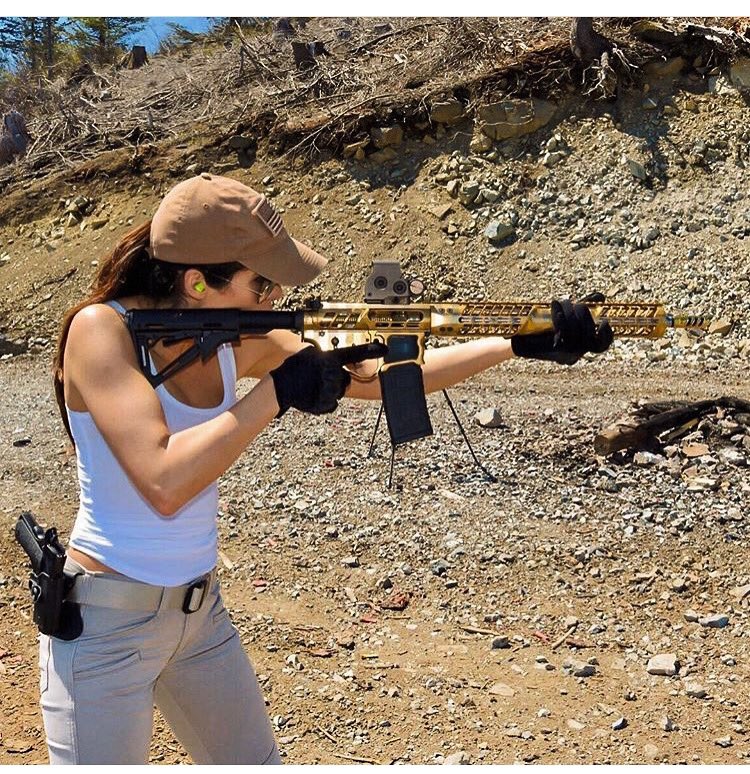 Anna Paulina Luna is the congresswoman-elect for Florida's 13th District. She took the seat of former Republican Governor-turned-Democrat Congressman-turned-losing Democrat gubernatorial nominee Charlie Christ. Christ resigned from Congress earlier this year to run for governor of Florida against Ron DeSantis. Luna made the
issues of veterans
and military families key components of her campaign and
named fixing the VA system
one of her top goals. She is not only a veteran herself, but her
husband is one
as well.
Zach Nunn – Iowa's 3rd Congressional District 
Service Branch: U.S. Air Force
Text JOINZN to 47682.

I'm an Air Force veteran — I've served our country overseas, and now I want to serve our country in Congress. #IA03https://t.co/CCb6nelnSh pic.twitter.com/AI5BSX8sIm

— Zach Nunn (@ZachNunn_ia) July 13, 2021
Iowa State Senator Zach Nunn flipped Iowa's Des Moines-based 3rd Congressional District seat this week, ousting incumbent Democrat Cindy Axne who was first elected in the 2018 blue wave and will now only serve two terms. During his time in the Iowa Senate, Zach Nunn fought for tax cuts, the 2nd Amendment, education and the military. He's expected to do the same in Washington.
Derrick Van Orden – Wisconsin's 3rd Congressional District 
Service Branch: U.S. Navy – Navy SEAL
Brad Pfaff at 18.

Me at 18.

I went on to serve our country for 26 years including 5 combat tours as a Navy SEAL

Brad went on to serve himself as a career politician

I retired in 2015 and started a small business to support our village

Brad is still a politician. Still. pic.twitter.com/j35Nk45nbO

— Derrick Van Orden (@derrickvanorden) September 9, 2022
Retired U.S. Navy SEAL Derrick Van Orden made his military service a key distinguishing factor of his campaign in Wisconsin's 3rd Congressional District. Van Orden flipped the seat after Democrat Congressman Ron Kind didn't run this cycle. He ran on a campaign platform of "gas, groceries, and grandkids" – focused on kitchen table issues that Americans deal with every day – issues that have gotten more difficult to handle during the past two years of a Biden presidency and Democrat trifecta in Washington. The congressman-elect told Fox News this week that his team run up 180,000 miles on their cars during the course of the campaign, crisscrossing his district and listening to the concerns of voters, and learning how he can make the lives of Wisconsinites better in Washington. Van Orden also said that his number one goal in the next Congress will be ensuring that 89,000 new IRS agents aren't added to the federal payroll. He wishes to serve on the Agriculture Committee, as he believes that "food security is national security."
Cory Mills – Florida's 7th Congressional District
Service Branch: U.S. Army 
Happy Veterans Day to all of my brothers and sisters in arms. Thank you for being willing to serve our great nation and answer the nation's call when required. #VeteransDay 🇺🇸 pic.twitter.com/Wv5ZywYV7Y

— Cory Mills 🍊🐊 (@CoryMillsFL) November 11, 2022
Army vet Cory Mills will be a first-time politician but is no stranger to Washington. Per the National Republican Congressional Committee (NRCC):
"Mills is a husband, father, decorated combat veteran, successful entrepreneur and job creator, foreign policy expert, and former Presidential appointee (Trump) to the Pentagon as a Department of Defense (DoD) advisor. Born and raised in central Florida, Cory left the state to serve his country in the U.S. Army. He served with the 82nd Airborne Division, earned a Bronze Star, and was struck twice while in combat – once by an improvised explosive device (IED) and once by an Iranian explosively formed projectively (EFP)."
Mills will take the seat formerly held by Democrat Stephanie Murphy, who did not seek reelection this year after redistricting.
Eli Crane – Arizona's 2nd Congressional District 
Service Branch: U.S. Navy – Navy SEAL
Vote for President Trump's endorsed candidate: Eli Crane for AZ-02 🇺🇸 pic.twitter.com/EMWOW70Xkz

— Eli Crane (@EliCrane_CEO) July 23, 2022
Another retired Navy SEAL who won his race for Congress this year is Arizona's Eli Crane. Crane ran on a solidly conservative platform of military and business accomplishments and securing the Southern Border, both with a physical barrier and by supporting law enforcement, from Border Patrol agents to sheriffs within his state.
The Hill notes:
The rural seat became more Republican-leaning following redistricting, causing Republican groups to run ads attacking O'Halleran while national Democrats declined to fund their nominee until the campaign's final weeks. Crane is the CEO of Bottle Breacher, a small business featured on Shark Tank that makes bottle openers built from bullets.
Wesley Hunt – Texas' 38th Congressional District (New District)
Service Branch: U.S. Army
Congressman @WesleyHuntTX: We are "putting America first" to preserve her and her values:

"The brave men and woman that are going to defend those values with their lives are also the brave men and woman that you're going to see in Congress defend our Constitution" pic.twitter.com/7N8pPxb2lT

— RNC Research (@RNCResearch) November 11, 2022
Hunt persevered after a disappointing election loss in 2020 and will finally be headed to represent Texans in Congress in January. This time, Hunt ran in a new congressional district, Texas' 38th District compromising suburban Houston. Houston Public Media (HPM) noted: "Hunt previously ran, and lost, against Democratic Congresswoman Lizzie Fletcher in TX-7 in 2020." This time, Hunt won his race. The HPM story on Hunt's victory states:
As widely expected, Republican Wesley Hunt defeated Democrat Duncan Klussmann 64% to 35% to become the first representative of Texas' newly drawn 38th Congressional District. Hunt, a former Army captain and Iraq War veteran, benefitted from a map that Republican state lawmakers drew largely with him specifically in mind. TX-38 stretches across northwestern Houston and Harris County, including the suburbs of Jersey Village, Cypress, Tomball, and Katy. It includes conservative portions of what was previously Texas' 7th Congressional District, a swing district prior to the 2021 redistricting cycle. "Serving the people of Texas's 38th Congressional District will be the greatest honor of my life," Hunt said in an emailed statement. "The support our campaign received from every corner of the district has been overwhelming, and I am incredibly grateful to all my supporters for dedicating their time and resources to this extremely important cause." Hunt said his top priority would be to "restore our energy independence", lower inflation, address security at the southern border, and "make our nation a safer place to live." "The American people have spoken, and they have overwhelmingly rejected the Biden Administration's agenda and one-party Democrat rule in Washington," Hunt said.