Despite the strong leaders Virginians have elected in the Commonwealth, we are sadly not immune from feeling the effects of the Democrat party's embrace of lawlessness, particularly at the federal level.
As Joe Biden and Alexander Mayorkas continue to turn a blind eye to the drugs and criminal activity that flow into Virginia from the southern border, law enforcement leaders such as Sheriff Jenkins of Culpeper County are forced to embrace the reality that "every county is a border county."
The Democrats this state has sent to Congress are further exacerbating the situation as well, voting last month to loosen punishments for violent crimes, as Virginians live with the consequences.
This is a direct result of the policies of radical "prosecutors" like @parisa4justice. https://t.co/Cwtp86CAnP

— Arlington GOP (@goparlington) April 3, 2023
One group holding Democrats accountable for their embrace of lawlessness is the National Republican Congressional Committee (NRCC). The Committee announced Friday that it had launched a billboard campaign targeting three vulnerable House Democrats for their recent votes.
One of the Democrats being held accountable is VA-07 Congresswoman Abigail Spanberger. The group is also targeting Gabe Vasquez (NM-02), & Susan Wild (PA-07).
The following is a mock-up of the billboards the group is funding across the state.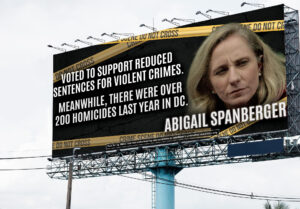 As The Republican Standard covered throughout the 2022 campaign cycle, Spanberger's rhetoric calling out her party for embracing the "Defund the Police" movement after the 2020 elections is the definition of pure political lip service.
The following excerpt is from a piece published by The Republican Standard last fall, and still rings true today:
"The irony with Spanberger doesn't there. After a trying 2020 campaign cycle, she famously put Speaker Pelosi and the far-left wing of her party on blast over both the "defund the police" movement and an embrace of socialism. At the time, Spanbeger predicted that if they continued with more of the same her party would "get f—ing torn apart in 2022."

Still, that doesn't seem to have stopped Spanberger from graciously accepting the support of her party's fringe figures this year. She accepted a $5,000 check from AOC's Courage to Change PAC which is meant to support candidates who "reduce the annual budget for law enforcement and defense spending."
Her voting record speaks for itself, and Republicans won't stop calling out her blatant hypocrisy.