This isn't news that should shock a soul, but President Donald Trump's anti-liberal approach is just the sort of rhetoric his supporters want to hear.
From NBC News, we are given two graphics that illustrate not just the fact that Trump shifted the American electorate in the Rust Belt, but that his support among working class Americans is a lot stronger than the mainstream media would lead folks to believe.

The truly interesting perspective comes from the "Surge Counties" vs. the "Flip Counties" — namely localities that voted Democratic but then came over to the Trump candidacy, another data point that backs up the "return of the Reagan Democrat" theme: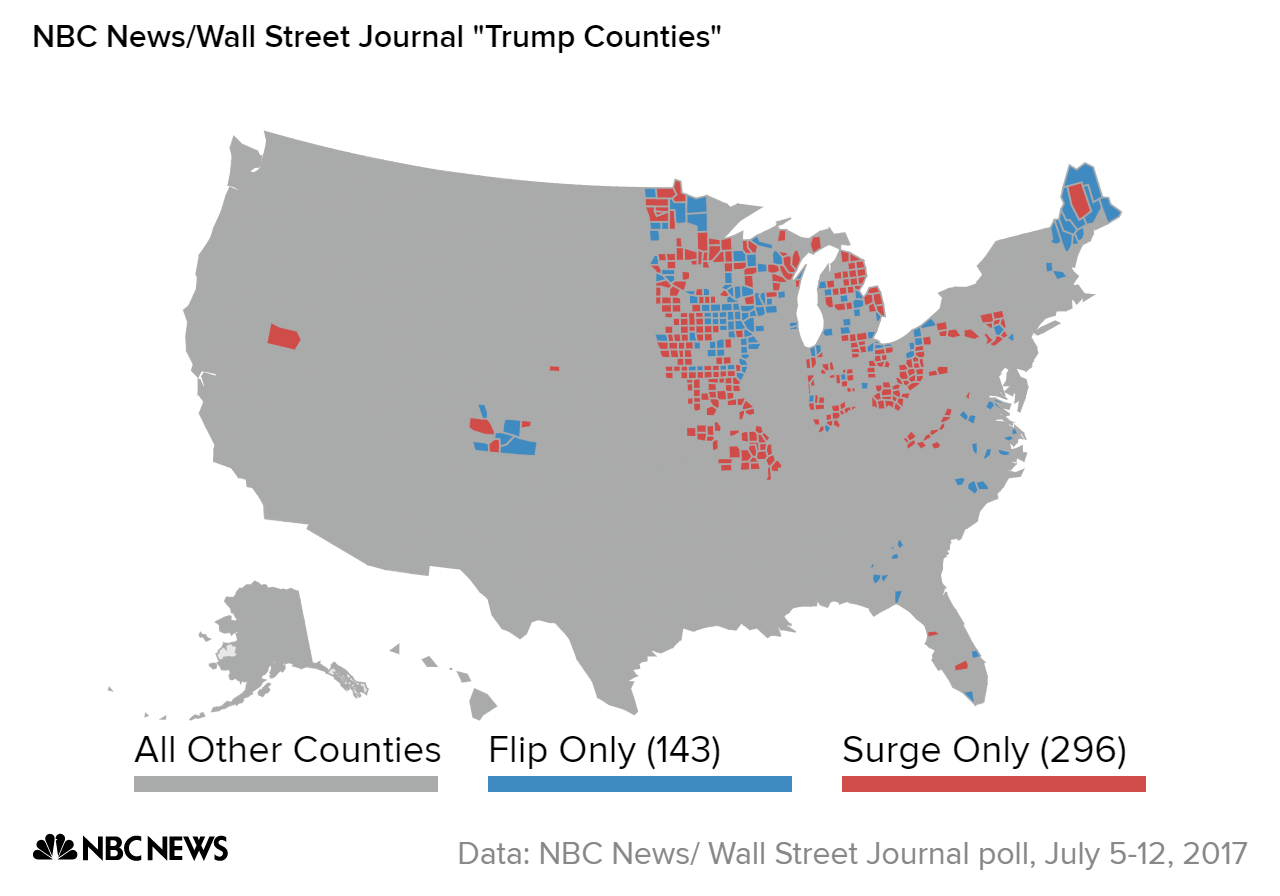 In short, the Northeast Strategy — as opposed to the long refuted myth of the "Southern Strategy" concocted by Democrats to explain their 1994 losses and reinforced in 2000 after Vice President Al Gore lost his home state of Tennessee — has a tremendous amount of credence, pulling from traditional (and forgotten) Democratic labor strongholds.
In no small part, this is why the Democrats have to hang their hat on Russia and malfeasance.  The reality of taking the working classes for granted, being held in thrall to the progressive wing of their own party, and having zero minus policy recommendations other than "let government do it" is too difficult to bear.
Donald Trump is proving one thing correct in time.  The only thing hated more than his presidency?  Are Democrats themselves.
One other item of interest here?  While the liberals have survived for years on regionalized areas such as urban districts and the industrialized MidEast, conservatives have subsisted on the West and South, especially as the South's economic fortunes improved since the 1970s.
What is notable here — at least for conservatives and populists, is that the populist core of the Trump movement really is in the Reagan Democrat — whereas identifying a conservative core region is proving to be a much more difficult task.