The Republican lawmaker from Southwest, who supports the Second Amendment, said Governor Northam's gun control bills were "dead on arrival" and did not expect any of them to advance to the House floor.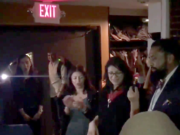 As a member of the Democratic Socialists of America, the first-term lawmaker from Michigan has been strongly critical of President Trump, both on the campaign trail and in an op-ed released on her first day in office, in which she called for the President's impeachment.
Who doesn't love Christmas music during Advent?  Heck knows I do... and what better way to spend this Advent by listening to medieval Christmas music! 
Democrats are in for a rather amazing surprise if they think VA-10 are easy pickings, as Comstock knows her home district better than any outsider. 
What beliefs are we instilling in our children that see this ad? It's time all Virginians rose up against these extreme fear-mongering tactics in...
We all know the best defense is a good offense.  So to defend their attack piece calling Gillespie "hateful," Democrats cried foul over Gillespie's...
Ralph Northam calls Ed Gillespie "hateful" and signals end of the "Virginia Way"
Embattled Democratic gubernatorial nominee Ralph Northam refuses to call on McAuliffe to fix the problem... another meeting missed.
Antifa activists get arrested in Utah planning violence to counter-protest conservatives attending a Ben Shapiro presentation... but does the media care?
Gillespie doesn't waste time caging the debate, with an immediate focus on crime, illegal immigration, and supporting Virginia's law enforcement.