Nikki Haley's Campaign Team Denied Us In-Person Access To Her Pro-Life Speech In Arlington
2024 Republican Presidential contender Nikki Haley took time on Tuesday morning to address members of the media and deliver remarks about the issue of abortion – one that large swaths of the Republican primary electorate are sure to use as a litmus test in picking their preferred candidate. 
Last Wednesday, Haley's campaign sent out a media release about the event, and it contained a link for members of the media to RSVP to cover today's remarks. A screenshot of the release was also shared by Haley's campaign Press Secretary Ken Farnaso.
Hi Ken! I'm not on your press list so I didn't receive the initial release about this event. I've emailed your team about RSVP-ing twice and haven't gotten a reply. Can someone email me back or DM me the location of the event tomorrow?

— Victoria Snitsar Churchill (@snits_churchy) April 24, 2023
Despite not being on the Haley campaign team's email list, I tried to confirm my attendance at the event by contacting the generic "[email protected]" address listed on the Media Center page of Haley's campaign website.
After not receiving an email for nearly a week, I followed up with Haley's team via email and also replied to Farnaso's original tweet in which he shared the media release about the event.
I was able to secure a reply via email in which a member of Haley's press team apologized for missing my earlier email, and then promised to follow up with additional details about the event. When the follow-up email came, I was told there was not going to be room at the event to accommodate the attendance of one more member of the press – me.
Team @NikkiHaley drastically changes course. After first being promised to be told the location for tomorrow's @TeamHaley media event on #abortion, I've now been told I'll be sent the remarks via email due to "limited space." https://t.co/Wp38qUZw7I pic.twitter.com/U7KefoOT6d

— Victoria Snitsar Churchill (@snits_churchy) April 24, 2023
Such conduct is quite disappointing from a team that considers itself to be a top challenger to President Donald Trump's quest to secure the Republican nomination. Overall, I was excited by the prospect of covering Haley's event for our rapidly growing upstart publication. As Virginia does not appear on the presidential calendar until early March, the opportunity to cover a presidential campaign event in person in the Commonwealth at this stage in the cycle is a rare opportunity.
I've covered congressional campaign events all over the State, and attended other conservative events in Virginia, D.C., and beyond as a member of the media numerous times and haven't ever been treated by a sponsoring organization in this matter. As a former congressional campaign press secretary and presidential campaign coalition director who worked with our press team to ensure coverage of grassroots events, this seems far from standard operating procedure to me.
I am a young woman who has been involved in the political realm for over a  decade, and on paper, I should be Haley's target swing demographic as a 24 to 36-year-old married female Republican living in the suburbs. Given my pre-media background and personal experiences, I particularly enjoy covering female candidates and elected officials; many in the mainstream media don't tend to give them the same fair shake as they afford male candidates. 
Just last week, Haley's team (rightfully) called out a Newsweek reporter for trying to write about 'criticism'  Haley faced over the color of the dress she wore at her daughter's wedding. That's the way the mainstream media likes covering female candidates. They focus on how they look rather than what comes out of their mouths or what their voting track record is.
This is why people don't trust the media. Liberal "journalists" spend their time harassing conservatives about outfit choices. Grow up, @Newsweek.

P.S. The dress was gold. pic.twitter.com/zDPTFPZSsl

— Nikki Haley (@NikkiHaley) April 21, 2023
I'm sure Haley's track record, which we covered HERE while previewing this event is one reason that the Susan B Anthony List hosted today's event with Haley, following a public split from Trump last week over recent comments he's made on the issue. 
Nikki Haley is now speaking at the SBA List HQ in Virginia. She opens by noting that today's speech will be focused on "the conversation around abortion."

"My record on abortion is long and clear. As a state legislator, I voted for every pro-life bill that came before me." pic.twitter.com/VygMmUpZKi

— Shelby Talcott (@ShelbyTalcott) April 25, 2023
After the event, a member of Haley's team did send me a link to a copy of her remarks as I was promised. When I first received the email, the link wasn't properly working and the page looked like this.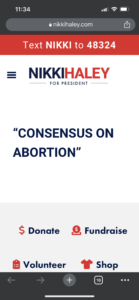 It has since been fixed. If you would like to read Haley's full remarks from the event you can do so HERE.
The opinions expressed in this article are those of the author and do not necessarily reflect the positions of The Republican Standard.