Early reports this morning from across Virginia are extremely positive as a very upbeat and chipper Team Gillespie sounds exuberant (if cautious) about reports coming from the field.
From Fenit Nirappil over at the Washington Post:
Our reporters at polls in NoVa have talked to a few Republican voters who say the Latino Victory Fund ad factored large in their vote

— Fenit Nirappil (@FenitN) November 7, 2017
Fox News reported early on that Northern Virginia independents — offended by the racist and vile Latino Victory Fund advertisement depicting Gillespie as driving in a Confederate flag-waving pick up truck running down minority children in an alley went beyond the pale… and flipped votes:
This undecided voter decided to vote for Ed Gillespie for Governor because of jobs, jobs, jobs#Republicans #VirginiaElection #ElectionDay pic.twitter.com/ZqmZmxCCqL

— Citizen Dale (@Trumptbird) November 7, 2017
Here's the chart of doom for Northam.  Google Trends has been a reliable indicator of how elections tend to end up (it was one of the factors that enabled me to predict Donald Trump's victory over Hillary Clinton in 2016).
Currently?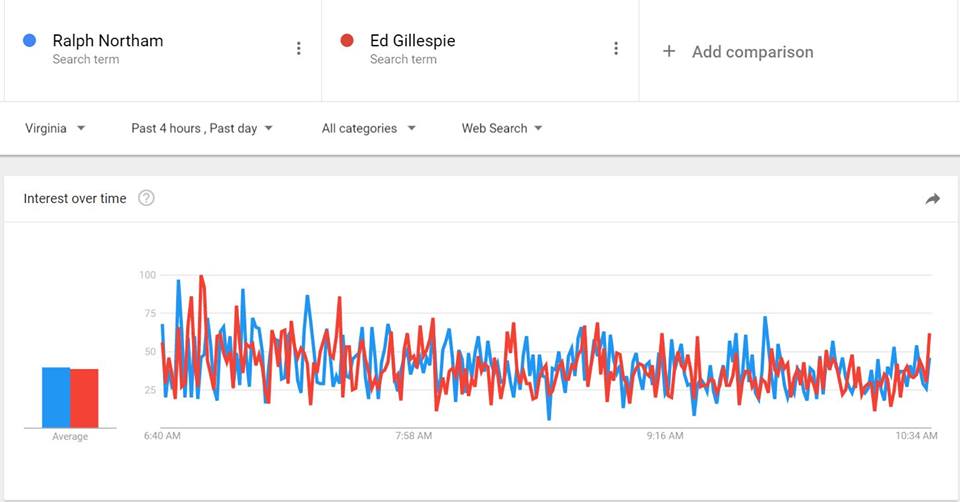 Gillespie is surging at the moment as folks decided whom to vote for.   Very positive news for the Republican frontrunner.
UPDATE: Rural Pittsylvania County precincts are reporting 30% turnout before noon today… a very positive sign.
UPDATE x2:  Meanwhile, some Fairfax and Prince William Democratic strongholds are showing significant downturns for turnout vs. 2013 numbers this morning.  Not a good sign for the Northam campaign.
UPDATE x3:  Updates from the Center of the Universe?  Columbia District of Fluvanna County had by my estimates about 24% turnout this morning…
UPDATE x4:  Swing district in Lynchburg reporting in as heavy turnout in a Democratic district.  So it is not all Republican tide at this point.
Just in case it is asked, yes — folks are reporting in via PM and I am anonymizing them… so just trust me (or send me a PM to @svkenney over Twitter). 
UPDATE x5:  Some kerfuffle over sample ballots in Spotsylvania County this morning overshadows a healthy turnout in the reliably Republican strongholds around the City of Fredericksburg.