Top Virginia Democrats refused to answer questions about corporate donations at a recent $25,000 fundraiser in Richmond. The refusal comes even as they begin to launder money to vulnerable Democrats who have "refused" corporate donations.
According to a private invitation obtained by The Republican Standard, House Minority Leader Eileen Filler-Corn and Democrat Caucus Chair Charnielle Herring recently held an "intimate dinner" fundraiser at a Ruth's Chris Steakhouse in Richmond. The price tag for admission was up to $25,000.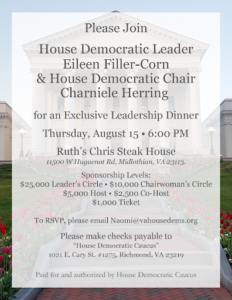 Filler-Corn and Herring were approached as they entered their exclusive dinner. Surprisingly, they refused to answer questions.
They would not confirm the $25,000 price tag for admission. And they would not acknowledge accepting corporate contributions even though many Democrats have sworn them off.
Why are Filler-Corn and Herring so silent on accepting corporate cash? It might have something to do with their plan to launder this corporate cash to vulnerable Democrats who have "refused" to accept contributions from corporations, most notably Dominion Energy.
This year, the House Democratic Caucus has taken tens of thousands of dollars from corporations.
The Commonwealth Victory Fund, the joint fundraising committee of House and Senate Democrats, has taken much more including $50,000 from Dominion, $40,000 from Comcast, nearly $30,000 from Verizon, and $25,000 from Walmart.
In fact, 21 of the 25 top donors to the Commonwealth Victory Fund are corporations or corporate associations. The contributions total $576,000, according to VPAP.
And now, the Democrats have begun an extensive effort to launder that money. Here's how it works.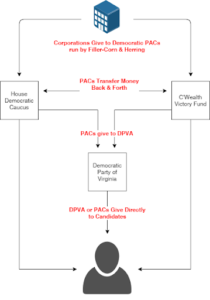 Corporations give to the Commonwealth Victory Fund or the House Democratic Caucus. The Commonwealth Victory Fund sends money to the House Democratic Caucus, or vice-versa.
The PACs either transfer money to DPVA, or to candidates, to help fund mail, television, and field operations.
So far, this money laundering campaign has been ignored by the mainstream media. It represents the ultimate hypocrisy, and presents a real problem for Dels. Lee Carter (D- Manassas), Kelly Convirs-Fowler (D-Virginia Beach), and Danica Roem (D-Prince William), all of whom swore off corporate donations.
These candidates will not be able to raise the necessary contributions to fully-fund their re-election campaigns and will undoubtedly have to look outside of their grassroots supporters for campaign cash.
When the time comes, will they accept caucus help?